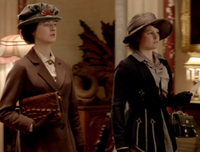 Branson: "I'm in uniform."
White feather girl: "Wrong kind."
Two women giving out white feathers appear at a fund raising concert hosted by the Crawleys to support the war effort. The feathers were handed to able bodied males not in uniform, specifically William and Branson as an indication of cowardice. Robert has them thrown out.
Behind the Scenes
Edit
In August 1914, at the start of the First World War, Admiral Charles Fitzgerald founded the Order of the White Feather with support from the prominent author Mrs Humphrey Ward. The organization aimed to shame men into enlisting in the British Army by persuading women to present them with a white feather if they were not wearing a uniform.
This was joined by prominent feminists and suffragettes of the time, such as Emmeline Pankhurst and her daughter Christabel. They, in addition to handing out the feathers, also lobbied to institute an involuntary draft of men, including those who lacked votes due to being too young or not owning property.[1]
Appearances
Edit
References
Edit
Ad blocker interference detected!
Wikia is a free-to-use site that makes money from advertising. We have a modified experience for viewers using ad blockers

Wikia is not accessible if you've made further modifications. Remove the custom ad blocker rule(s) and the page will load as expected.