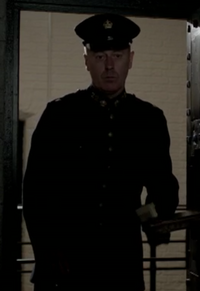 Turner: "These came for you Bates"
Bates: "When? When did they come?"
Turner: "They came when you were out of favour. Now you are in favour again."

Turner is a prison guard appearing in several episodes of Downton Abbey. He brings John Bates his accumulated mail when he's "in favor" again.
Turner confided in Bates that he is not liked by another guard, Durrant, and warns him he should watch out for him.
Appearances
Edit
He is portrayed by Ged Simmons.
Ad blocker interference detected!
Wikia is a free-to-use site that makes money from advertising. We have a modified experience for viewers using ad blockers

Wikia is not accessible if you've made further modifications. Remove the custom ad blocker rule(s) and the page will load as expected.