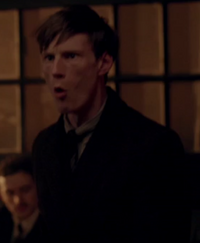 Rose: "I don't want to dance with you."
Tough: "How do you know, you haven't even tried it?"
A tough at the Jubilee Dance Hall tries to cut in on Samuel Thawley and Rose, however Rose firmly declines. He then starts a fight with Sam, while Jimmy and Anna escort Rose, despite her protestations, away before she gets hurt and before the police arrive.




Appearances
Edit
Behind the Scenes
Edit
Ad blocker interference detected!
Wikia is a free-to-use site that makes money from advertising. We have a modified experience for viewers using ad blockers

Wikia is not accessible if you've made further modifications. Remove the custom ad blocker rule(s) and the page will load as expected.