St. James Park
Location information
Location
Westminster, London, England
Use
Public Park
Affiliation
London
"They're talking now. He'll meet her in St. James Park at three."
—Mary, referring to Rose and Atticus Aldridge just before their wedding.
St
. James's Park
is a 23 hectares (57 acres) park in the City of Westminster, central London. The park lies at the southernmost tip of the St James's area, which was named after a leper hospital dedicated to St. James the Less. In season one, Mary and
Rosamund Painswick
walk through the park discussing the former's prospects should
Matthew
be superseded as heir due to
Cora
's surprising pregnancy.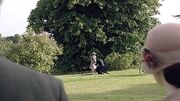 In season five, Mr. Molesley, Miss Baxter and Daisy walk through the park and come upon Rose and Atticus, whom they chose to leave alone. Unbeknownst to them, Rose and Atticus are discussing the compromising pictures coming from his stag party.
Behind the Scenes
Edit
St. James's Park is bounded by Buckingham Palace to the west, The Mall and St James's Palace to the North, Horse Guards to the east, and Birdcage Walk to the south.
The park has a small lake, St. James's Park Lake, with two islands, West Island, and Duck Island, which is named for the lake's collection of waterfowl. This includes a resident colony of pelicans, which has been a feature of the park since the first gift of the birds from a Russian ambassador in 1664. The Blue Bridge across the lake affords a view west towards Buckingham Palace framed by trees. Looking east the view includes the Swire fountain to the north of Duck Island and, past the lake, the grounds known as the Horse Guards Parade, with the Horse Guards building, the Old War Office building, and Whitehall Court progressively behind.
Appearances
Edit
External links
Edit
Ad blocker interference detected!
Wikia is a free-to-use site that makes money from advertising. We have a modified experience for viewers using ad blockers

Wikia is not accessible if you've made further modifications. Remove the custom ad blocker rule(s) and the page will load as expected.