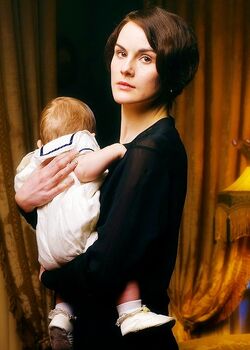 Series 4 began filming eight episodes on February 28th, 2013[1]. Series 4 will include a Christmas Special for 2013. The opening and closing episodes will again be feature length with series four continuing the story of the Crawley family and their servants in the early 1920s[2].
The Series will pick up six to eight months after the end of the Christmas Special[3], that is to say, sometime between March and May 1922.
Julian Fellowes wants to slow down the pace of the drama, make it more subtle, and concentrate more on character development.[citation needed]
The main plot will focus on Mary adjusting to her new life and attempting to move on without the man she loved[4] and raise her son, George.
Tom Branson has also been confirmed to be taking on a larger role within the family, and something exciting will happen for him in the middle of the series. Violet and Michael Gregson will be returning. Rose will have an increased role.[citation needed] Martha Levinson will appear in the Christmas special.[5] Sarah O'Brien[6] and Ethel Parks[7] will not return.
Tom and Mary will spend more time together and grow considerably closer, but not be romantically interested in one another. There will be a nursery subplot involving a nanny and the children. Edith will get more feisty and glamorous, being as actress Laura Carmichael states, done with society's expectations, and it has been hinted her relationship with Gregson will flourish. Better days - plus a few ups and downs - are expected for John and Anna Bates. Mary shall have two new suitors: Lord Anthony Gillingham - who has known her since childhood - and Charles Blake.[citation needed] Lady Rosamund Painswick will return, and there will be a tango dance scene in which she will appear[8].
The show will feature its first black character: Jack Ross, a jazz musician and singer.[9] Other new faces include party-loving drunkard Sir John Bullock,[citation needed] Violet's old "school friend" Lady Shackleton, the Duchess of Yeovil, visiting valet Green, and a singing houseguest.[10]
Series Four will premiere in the UK in the autumn of 2013[11], then in the US on January 5, 2014.[citation needed]
Cast Hopes
Edit
Sophie McShera claims Daisy is still not doing well in terms of love, but is in a career dilemma - will she go to her father-in-law's farm?
Joanne Froggatt thinks a baby might possbily be on the way for Anna and John.
Rob James-Collier would like Thomas to enter a relationship that worked.
Jim Carter thinks for Carson it will be "a race between retirement and disillusion." The standards for household service are going to drop, so he feels Carson should retire before that comes to Downton.
Episodes
Edit
References
Edit