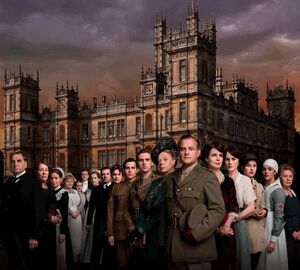 Series 2 of Downton Abbey premiered on 18th September 2011 on ITV1 and in the U.S. on 8th January 2012. and premiere on the 27th of May 2012 in Australia.The series consists of 8 episodes and a Christmas Special it finished on the 6th November 2011. The series viewing figures significantly increased compared with series 1, with an average of 11 million viewers per episode.
The series will be composed of eight episodes, running from the Battle of the Somme in 1916 to the Armistice in 1918 and later in 1919, covering other historical events such as the Battle of Verdun, the Russian Revolution and the British capture of Jerusalem; on the domestic front there is a serious shortage of able-bodied men for home front jobs. There is also the appointment of David Lloyd George (whom the Dowager Countess despises) as Prime Minister and his creation of the wartime coalition. Matthew Crawley, Thomas and William Mason are off fighting in the war; Tom Branson, an Irishman, is unsure that he wants to fight for Britain; and Lord Grantham cannot serve due to his age. Lady Sybil Crawley defies her aristocratic position and joins the Voluntary Aid Detachment.
Behind the scenes
Edit
Filming began in March 2011 staring: Michelle Dockery, Dame Maggie Smith, Brendan Coyle, Rob James-Collier, Dan Stevens, Elizabeth McGovern, Hugh Bonneville, Jessica Brown-Findlay, Laura Carmichael, Joanne Froggatt, Phyllis Logan and Allen Leech.
Cal Macaninch, Iain Glen, Amy Nuttall, Zoe Boyle and Maria Doyle Kennedy joined the cast as the new valet Lang, Sir Richard Carlisle, the new Housemaid Ethel, Miss Lavinia Swire and John Bates' wife Vera.
Nigel Havers and Sharon Small will appear in the Christmas Special as Lord Hepworth and Marigold Shore, Lady Rosamund' s maid.
Episodes
Edit
External links
Edit