Ad blocker interference detected!
Wikia is a free-to-use site that makes money from advertising. We have a modified experience for viewers using ad blockers

Wikia is not accessible if you've made further modifications. Remove the custom ad blocker rule(s) and the page will load as expected.
Lady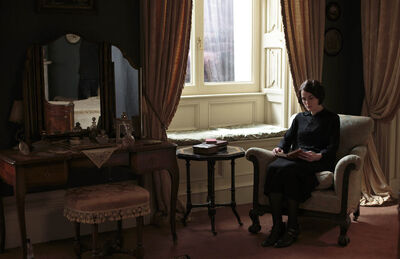 Mary
's bedroom has been the place of many dramas over the years we have spent at
Downton Abbey
, the death of
Kemal Pamuk
, serveral arguments between Mary and
Matthew
, an argument between Mary and
Carson
, and a proposal by
Lord Gillingham
. Previously decorated with an extensive red and cream wallpaper and furnished with a four poster bed, the room had a make over during 1920 and has tasteful dark green coloured walls, an elegant double bed, two side tables and a pretty dresser with a stool.