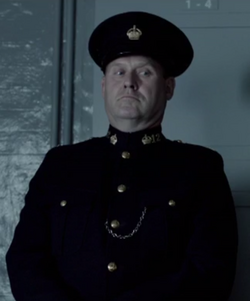 Bates: "God knows I'm not sorry either. Maybe I should be, but...no man can regret loving as I have loved you."
Prison Officer: "No touching!"
Bates: "For God's sake, man, you know where I am bound. How dangerous can this be?"
The Prison Officer oversees the visit between Anna and John Bates at York Prison.
Appearances
Edit
Behind the Scenes
Edit
The Prison Guard is portrayed by Tony Prichard.
Ad blocker interference detected!
Wikia is a free-to-use site that makes money from advertising. We have a modified experience for viewers using ad blockers

Wikia is not accessible if you've made further modifications. Remove the custom ad blocker rule(s) and the page will load as expected.