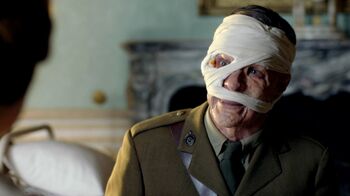 Major "Patrick Gordon"
, a member of the
Princess Patricia's Canadian Light Infantry
, made a request to stay at the convalescent home at the Downton Abbey because he claims to be related to the Crawley family.
Major Gordon then claims to be Patrick Crawley. He says he survived the Titanic sinking but developed amnesia and took his new surname from a bottle of gin. It is impossible to recognize Major Gordon as Patrick Crawley as his face was severely burned during the Battle of Passchendaele.
Gordon does convince Edith by relating experiences in Downton. Mary however is immediately convinced the officer is lying. Their father however sees him make a cross-like gesture with his fingers, to which he questions him, "Where did you learn to do that?" Major Gordon replies, "Do what?"
Lord Grantham sends Major Gordon's story to his solictior who does some investigating. He reveals that a Peter Gordon once worked with the real Patrick Crawley at the Foreign Office, which would explain how he knew some of the private details of the Earl's family. Violet is then convinced Major Gordon is a fake, most likely Peter. Major Gordon tells Edith he and Peter were good friends. Edith says Murray will then try to track down Peter, to which Major Gordon nervously questions what if he had joined his regiment.
Frustrated that no one else recognizes him as Patrick, Major Gordon tells Edith that their may be no going back, but Edith encourages him not to give up. But he soon leaves. He left a letter for Edith, signing it "P. Gordon." Sybil questions whether P stands for Patrick or Peter. Edith remains convinced he was her cousin and is grief-stricken he is gone.
Behind the Scenes
Edit