Mr Carson's Pantry contains a large desk which he works at, a cupboard that stores the silver and one for the keys to the abbey, his port pouring accouterments, and many other furnishings and fittings. The room is situated opposite the Kitchen and alongside Mrs Hughes' Sitting Room on the Servants' Passageway.
On Christmas Day 1924 Mr Carson proposes to Mrs Hughes in his Pantry.
Even Mr. Carson's stuffed fish is tasteful.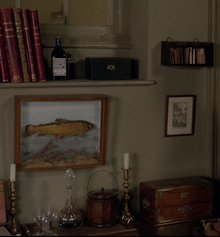 Ad blocker interference detected!
Wikia is a free-to-use site that makes money from advertising. We have a modified experience for viewers using ad blockers

Wikia is not accessible if you've made further modifications. Remove the custom ad blocker rule(s) and the page will load as expected.