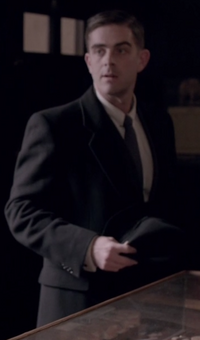 Anna: "I've not quite made up my mind. Why not serve the gentleman first?"
Man in chemist: "That's kind of you. Packet of safety razor blades, please."
Appearances
Edit
Behind the Scenes
Edit
The man in the chemist's shop was portrayed by Simon Lawson.
Ad blocker interference detected!
Wikia is a free-to-use site that makes money from advertising. We have a modified experience for viewers using ad blockers

Wikia is not accessible if you've made further modifications. Remove the custom ad blocker rule(s) and the page will load as expected.