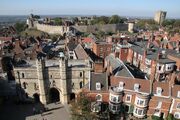 Lincoln Castle is a major castle constructed in Lincoln, England during the late 11th century by William the Conqueror on the site of a pre-existing Roman fortress and has housed the Magna Carta since 1215. Lincoln Castle remained in use as a prison and law court into modern times, and is one of the better preserved castles in England.  It is open to the public as a museum.
Lincoln Castle served as the fictional location of York Prison in season 3 of Downton Abbey..
External links
Edit
Ad blocker interference detected!
Wikia is a free-to-use site that makes money from advertising. We have a modified experience for viewers using ad blockers

Wikia is not accessible if you've made further modifications. Remove the custom ad blocker rule(s) and the page will load as expected.