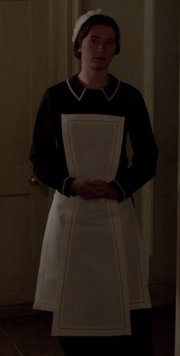 Lady Sybil: "Lily! Can you find Gwen and tell her to come to the Hall, now."
Lily: "Yes, m'lady."
— Lady Sybil asks Lily to fetch Gwen.
Lily is a housemaid at Downton Abbey who was hired in or before 1914. When Mr Bromidge was at Downton overseeing the instalation of the house's telephones, Lady Sybil asked Lily to fetch Gwen Dawson, so that Bromidge could assess if the latter could join him as his secretary.
Lily is also seen in the 2011 Christmas Special playing Ouija board with O'Brien and Thomas, and walks in on Anna and Mr. Bates in series 5 episode 6. In 1925, she leaves Downton to get married.
Appearances
Edit
Behind the scenes
Edit
Ad blocker interference detected!
Wikia is a free-to-use site that makes money from advertising. We have a modified experience for viewers using ad blockers

Wikia is not accessible if you've made further modifications. Remove the custom ad blocker rule(s) and the page will load as expected.