Ivy Stuart

Biographical information
Marital status
Single
Residence
Downton, Yorkshire
Physical information
Gender
Female
Hair colour
Brown
Family information
Family
Mrs. Stuart (mother)
Affiliation
Occupation
Kitchen Maid


Maid of All Work (formerly)

Behind the scenes
Portrayed by
Cara Theobold
Ivy Stuart
is a kitchen maid who starts working at
Downton Abbey
in 1920 after
Daisy Mason
is promoted to assistant cook. Ivy takes a fancy to footman
Jimmy Kent
but is pursued by
Alfred
, the other footman.
[1]
 However she does seem to delight in Alfred's attention, but tells him she is attracted to Jimmy despite Alfred's insistence that Jimmy is not attracted to her. She wants to hear so from Jimmy's lips. She also captures the affection of many hearts downstairs, but Daisy, angry and jealous at the attention she receives (particularly from Alfred, whom Daisy has taken a fancy too), and does not make Ivy feel welcome, though
Mrs. Patmore
advises Daisy to stop.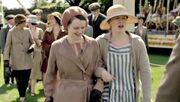 Daisy and Ivy eventually seem to be on better terms by 1921, as they accompany one another at the Thirsk fair and have a good time together.
She does make Mrs. Patmore angry when Ivy has painted her face. Ivy insists it is not like the olden days, but Mrs. Patmore berates her all the same, saying "Not in this house!" Ivy also appears to hate all the work she has to do, commenting that "We're never finished."
Ivy previously worked as a Maid of All Work for a shopkeeper in Malton and then her mother put her up for the job wanting her to better herself and work at Downton Abbey.[2] She also appears to have a fondness for dancing.
References
Edit
↑ http://www.telegraph.co.uk/culture/tvandradio/downton-abbey/9485702/Downton-Abbey-love-triangle-to-shake-up-life-downstairs.html