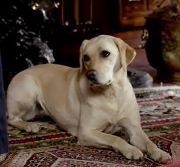 Isis
is a white labrador, who belongs to the Crawley family. However, she shares a very close connection to the
Earl of Grantham
, as she is always beside him. Isis appears in a larger role in the Christmas Special, when
Thomas Barrow
 hides her in a gardening shed. Eventually, some children from the village find her in the shed, and return her to Lord Grantham. Thomas is greatly relieved, after having searched and searched for her, worrying about her absence from where he placed her. Isis' kidnapping is never discovered.
Aside from the Christmas Specials, Isis is shown at the very beginning of the show's introduction, walking beside the Earl of Grantham.
Series One
Edit
Isis occasionally appears in the background in Series One.
Series Two
Edit
Isis appears in Series Two when Mrs. Patmore feeds her leftover Crepe Suzettes after telling Ethel that none were left over from the previous night's dinner. She also made several background appearances.
Isobel also mentions her when she talks about the convalescent home, she asks what can be done about keeping her out of the rooms to which Robert replies "I can answer that - absolutely nothing!"
Christmas Special
Edit
Isis appears in the Christmas Special when Thomas hides her in a shack. His plan was to keep her hidden and then find her to gain Lord Grantham's trust, potentially causing him to be promoted to valet. However, his plan backfires when a village girl finds Isis and brings her to the Earl for a reward. However, the Earl sees that Thomas was searching for Isis and is touched. Thomas gains his trust and is hired once again.
Series Three
Edit
Isis occasionally appears in the background.
Christmas Special 2012
Edit
Tom Branson is holding Isis on her leash when the family leave for Scotland. Robert asks him to walk her a lot, saying she can get lazy. Later he is walking her when he goes to lunch at the Grantham Arms.