Matthew: "I've got a job in Ripon. I said I'll start tomorrow."
Robert: "A job?"
Matthew: "In a partnership. You might have heard of it, Harvell and Carter. They need someone who understands industrial law, I'm glad to say. Although, I'm afraid most of it will be wills and conveyancing."
— Matthew Crawley and the Earl of Grantham discuss the former's job in Ripon.
Harvell and Carter
is a law partnership based in
Ripon
,
North Yorkshire
.
Matthew Crawley
started working for Havel and Carter in 1912, when he and
his mother
moved to
Crawley House
, in
Downton
.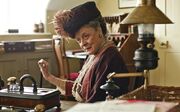 Appearances
Edit
Behind the scenes
Edit
Ad blocker interference detected!
Wikia is a free-to-use site that makes money from advertising. We have a modified experience for viewers using ad blockers

Wikia is not accessible if you've made further modifications. Remove the custom ad blocker rule(s) and the page will load as expected.