Ad blocker interference detected!
Wikia is a free-to-use site that makes money from advertising. We have a modified experience for viewers using ad blockers

Wikia is not accessible if you've made further modifications. Remove the custom ad blocker rule(s) and the page will load as expected.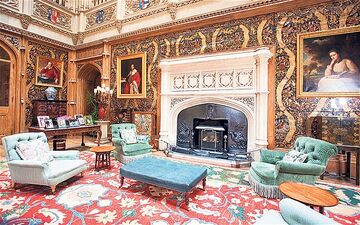 Mary Crawley: "How many moments of Crawley history has this room seen?"
Matthew Crawley: "And many more to come."
— Matthew and Lady Mary Crawley survey the Hall
The
Great Hall
is the central atrium of
Downton Abbey
, and reflects the gothic nature of the house with its arched ceiling, sweeping columns and intricate styling. The intricate Middle Eastern rug is only removed for special occasions, like weddings, but during the Great War tables were erected for soldiers to eat at. At Christmas time, a great tree is put up in the Hall, striking awe into the hearts of those who see it. Concerts have been held in this Hall in Episodes
2.01
,
4.03
and
4.06
, and numerous parties, like the cocktail party in
Episode 5.05
and the Christmas party for the tenant farmers in the
2014 Christmas Special
. Many dramas have occurred beneath its skylights, including
Mary
and
Matthew's
kiss, which the latter believes led to the death of
Lavinia Swire
, and
Atticus Aldridge
's proposal to
Lady Rose
. This room really is the heart of the house.