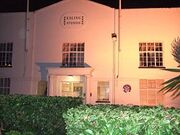 Ealing Studios is a television and film production company at Ealing Green in West London. The ITV drama Downton Abbey shoots the servants' quarters on stages 3A and 3B.
Ealing Studios is the oldest continuously working studio facility for film production in the world, the current stages were opened for the use of sound in 1931. It is best known for a series of classic films produced in the post-WWII years, including Kind Hearts and Coronets (1949), Passport to Pimlico (1949), The Lavender Hill Mob (1951), and The Ladykillers (1955). The BBC owned and filmed at the Studios for forty years from 1955 until 1995. Since 2000, Ealing Studios has resumed releasing films under its own name, including the revived St Trinian's franchise. In the past decade, films shot here include The Importance of Being Earnest (2002) and Shaun of the Dead (2004).
External links
Edit
Ad blocker interference detected!
Wikia is a free-to-use site that makes money from advertising. We have a modified experience for viewers using ad blockers

Wikia is not accessible if you've made further modifications. Remove the custom ad blocker rule(s) and the page will load as expected.