The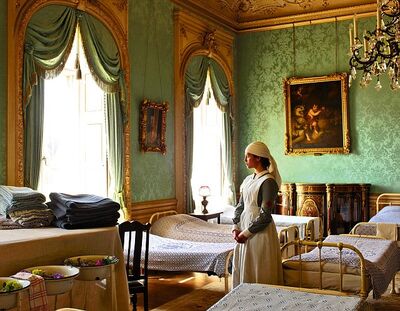 Drawing Room, uusually used in the evenings is decorated with soft colours such as pinks and creams ,as well as blue silk covers wallpaper. The room is a communal one and entertains the ladies and gentlemen before and after dinner. The room plays host to many games of Bridge and other games, the room is more formal than the Library and presided over by Carson. On occasions the room may be used in the day by Lady Mary, Lady Edith or Lady Grantham who may sit and sew, perhaps read the latest Vogue catalogue or to write a letter. The room as explained by Mrs Crawly on her visit to Canvenham Park has that of a feminine personality, so too the the music rooms and tea rooms, where as the Libraries and Dining Rooms of a country house, hence the ladies connection with this delightful and beautiful room. During the first world war the room doubled as a ward when the house was converted into a convalescent home. The room was cleared of much of it's contents and white cast iron hospital beds were brought in. The room once transformed back to it's former glory continued to be one of the main impressive features at Downton Abbey.
Ad blocker interference detected!
Wikia is a free-to-use site that makes money from advertising. We have a modified experience for viewers using ad blockers

Wikia is not accessible if you've made further modifications. Remove the custom ad blocker rule(s) and the page will load as expected.