Robert: "I'm not sure Tom's visiting the school is such a good idea. He made a friend of one of the school mistresses while we were in London for Rose's season."
Cora: "What's wrong with that?"
Robert: "I don't intend to explain, but I was rather disappointed in him"
Downton School is the school in Downton that the children from the village attend. Sarah Bunting worked there as a teacher. In 1925, Charles Carson and Elsie Hughes hold their wedding in the school.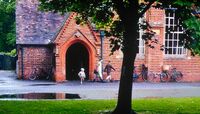 Appearances
Edit
Ad blocker interference detected!
Wikia is a free-to-use site that makes money from advertising. We have a modified experience for viewers using ad blockers

Wikia is not accessible if you've made further modifications. Remove the custom ad blocker rule(s) and the page will load as expected.