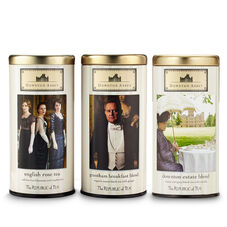 Downton Abbey Tea is licensed tea products by the company Republic of Tea. They include canisters of tea, mugs, teapots, and other sundries. It is not clear if the products without images from the show are modeled after items that appear in the show.
Tea blends include:
English Rose Tea, Grantham Breakfast Blend, Downton Estate Blend, Butler's Pantry Tea, Mrs. Patmore's Pudding Tea, Lady Cora's Evening Tea, Holiday Cheer Tea, Crawley Sisters Tea, Bates' Brambleberry Tea, Downton Christmas Tea, Afternoon Garden Tea, and Downton Legacy Tea.
See also
Edit
External links
Edit

Republic of Tea
Downton Abbey® Tea
Ad blocker interference detected!
Wikia is a free-to-use site that makes money from advertising. We have a modified experience for viewers using ad blockers

Wikia is not accessible if you've made further modifications. Remove the custom ad blocker rule(s) and the page will load as expected.