Ad blocker interference detected!
Wikia is a free-to-use site that makes money from advertising. We have a modified experience for viewers using ad blockers

Wikia is not accessible if you've made further modifications. Remove the custom ad blocker rule(s) and the page will load as expected.
Downton is a small village in North Yorkshire, England.
Downton contains a post office, a village shop, two public houses (the Grantham Arms and The Dog and Duck) and a railway station. There is also a cottage hospital, the main doctor of which is Dr. Richard Clarkson. There is also a large church, Church of St. Michael of All Angels, with a cemetery beside it.
Located a few minutes walk from the village rests Downton Abbey, the seat of the Earl and Countess of Grantham and the latter and the former's main residence. Lord and Lady Grantham's two eldest daughters and two youngest grandchildren live at Downton Abbey.
In the village are also two manors, the Dower House and Crawley House. The Dower House is the residence of Lord Grantham's mother, the Dowager Countess of Grantham. Crawley House is the residence of Lord and Lady Merton, and was also the residence of Lady Merton's son Matthew Crawley until he moved to the Abbey following his marriage to Lord and Lady Grantham's eldest daughter (also Matthew Crawley's fourth cousin).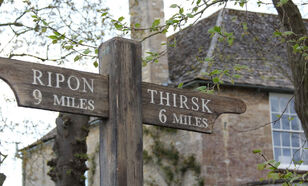 The village is located between the towns of Ripon and Thirsk. A signpost in Downton village shows that Thirsk is 6 miles in one direction, while Ripon is 9 miles in the other direction.[1]a
Known Locations
Edit
Behind the scenes
Edit
The village of Downton is depicted by Bampton, in Oxfordshire.
There is no village of Downton in the real Yorkshire, but the Yorkshire press have attempted to find where it might be.[2]
a As Thirsk and Ripon are in fact 14 miles apart by road, it can be deduced that Downton must be a little off the direct route between the two. Thus, if Downton is to the south of the direct route, it is in the vicinity of Topcliffe, while if it is to the north of the direct route, it is in the vicinity of Sandhutton.[citation needed]
References
Edit