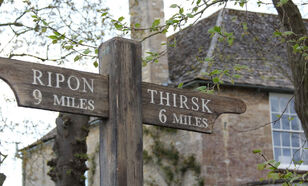 Downton is a small village in north Yorkshire, England. It contains a post office, a village shop, two public houses, the Grantham Arms and The Dog and Duck, and a railway station. There is also a cottage hospital, the main doctor of which is Dr. Richard Clarkson. There is also a large church, Church of St. Michael of All Angels, with a cemetery beside it.
Downton Abbey, the country house of the Earl and Countess of Grantham and their family, is located in the outskirts of Downton. Crawley House, where Matthew and Isobel Crawley went to live is also located in Downton.
The village is located between the towns of Ripon and Thirsk. A signpost in Downton village shows that Thirsk is 6 miles in one direction, while Ripon is 9 miles in the other direction.[1]a
Known Locations
Edit
Behind the scenes
Edit
The village of Downton is depicted by Bampton, in Oxfordshire.
There is no village of Downton in the real Yorkshire, but the Yorkshire press have attempted to find where it might be.[2]
a As Thirsk and Ripon are in fact 14 miles apart by road, it can be deduced that Downton must be a little off the direct route between the two. Thus, if Downton is to the south of the direct route, it is in the vicinity of Topcliffe, while if it is to the north of the direct route, it is in the vicinity of Sandhutton.[citation needed]
References
Edit