Daisy Mason (nee Robinson)

Biographical information
Marital status
Widow
Residence
Downton, Yorkshire
Physical information
Gender
Female
Hair colour
Black/Brown
Family information
Family
William Mason (husband) †
Mr. Mason (father-in-law)

Affiliation
Occupation
Kitchen Maid (formerly)

Assistant Cook

Loyalty
Mrs. Patmore
Mr. Mason
Behind the scenes
Portrayed by
Sophie McShera
Daisy Mason
(née Robinson)
is an assistant cook (formerly kitchen maid) at Downton Abbey and the widow of
William Mason
. She lives under the strict but caring eye of 
Mrs. Patmore
, the cook. Daisy is usually seen in a light pink dress, later black. Her birthdate is unknown but she is most likely very young in 1912. She is one of eleven children, as her mother was a "true Victorian" and had many offspring. Daisy is portrayed by 
Sophie McShera
.
In the first six episodes, she is very taken with Thomas, but after he is nasty about Lady Grantham's miscarriage, her affections shift toward William; however, by Series 2, she feels that their relationship is going too fast, and is hesitant when he proposes to her before going off to war. However, she marries him shortly before his death out of pity, after being persuaded by several members of the staff. She later feels a great deal of guilt about allowing William to think that she loved him. However, she does grow close to William's father, Mr. Mason, who sees her as the only family he has left now, with his wife and children all dead. They agree to support one another as father and daughter.
In Series 3, Daisy at first does not get her promotion and becomes really angry. But when she does get promoted, she is jealous of the new kitchen maid Ivy Stuart. She also falls head-over-heels for new footman, Alfred Nugent, who is pursuing Ivy.[1] Daisy also pays another visit to her father-in-law, Mr. Mason. She learns he wants to name her as his heir, and asks she move in with him so he can teach her how to run the family farm. She has not given him an answer yet, though she has admitted she never imagined she would be leaving service.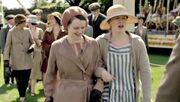 She is still living in Downton in 1921, but appears to be on better terms with Ivy, whom she accompanies at the Thirsk fair and they have a good time together. Whether or not she will eventually go to the farm remains unknown.
Character
Edit
Daisy is a humble character. She is a rather "simple minded" girl, but is very generous to all (though in the case of Ivy she reveals a jealous, power-hungry side). Despite often being told off by Mrs. Patmore and bearing the scoldings well - even when she is being admonished for something not her fault - Mrs. Patmore does truly care for Daisy.
Behind the Scenes
Edit
Actor Jim Carter, who plays Mr. Carson, points out that the character of Daisy has worn the same dress for 3 years, and Sophie McShera says that if she could give one thing to Daisy as a Christmas present it would be shampoo. [2]
References
Edit
↑ http://www.telegraph.co.uk/culture/tvandradio/downton-abbey/9485702/Downton-Abbey-love-triangle-to-shake-up-life-downstairs.html