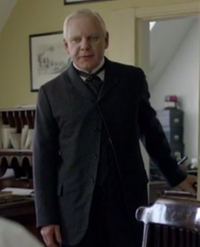 Clerk: "Someone to see you, Mr Crawley."
Matthew: "Well, there's nothing in my diary."
Clerk: "It's Lady Grantham."
Matthew: "Well, in that case, show her in at once."
The clerk works for Havel and Carter with Matthew and informs him that Lady Grantham is there to see him. Matthew assumes he means Cora when it was in actuality Violet. Realising this, Violet responds "I hope I am not a disappointment".


Appearances
Edit
Behind the Scenes
Edit
Ad blocker interference detected!
Wikia is a free-to-use site that makes money from advertising. We have a modified experience for viewers using ad blockers

Wikia is not accessible if you've made further modifications. Remove the custom ad blocker rule(s) and the page will load as expected.