Alfred Nugent

Biographical information
Born
In or before 1900 (age 26 or younger)
Marital status
Single
Military career
World War I Veteran
Physical information
Gender
Male
Height
6'4½" (1,94 m)
Hair colour
Red
Eye colour
Blue
Family information
Family
Sarah O'Brien (maternal aunt)
Sarah O'Brien's shell-shocked brother (maternal uncle) †
Mrs Nugent (mother)
Mr Nugent (father) †
Unnamed sister
Affiliation
Occupation
Chef in training
Second Footman at Downton Abbey (formerly)
Hotel waiter (formerly)
Army (formerly)
Loyalty
Downton Abbey
Sarah O'Brien (formerly)
Mr Carson
Behind the scenes
Portrayed by
Matt Milne
Alfred Nugent[1] was Sarah O'Brien's nephew who arrived at Downton Abbey in 1920 after Alfred's mother wrote to her sister asking her to help find Alfred a position there, which she did. He worked as a footman but lacked "a natural air of confidence and grace" that fellow footman Jimmy Kent had. Alfred replaced Thomas as footman, as Thomas had been moved up to become Valet to Lord Grantham in the absence of John Bates, who had at that time been wrongly incarcerated.
Biography
Edit
Personality
Edit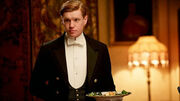 Upon arriving at
Downton Abbey
, Alfred admits he feels "quite nervous" and rarely feels good about himself early on. He tells Mr Carson on his arrival that he means "to try" to do a good job. Even Carson himself admits later that Alfred is a good worker, even if he is O'Brien's nephew.
But later, Alfred delights in being preferred by Mr Carson over Jimmy Kent and is a little like his aunt, Sarah O'Brien, being devious enough to deceive Daisy Mason into teaching him dancing just so he can impress Ivy Stuart, getting both Daisy and later Jimmy in trouble as a result.
He is quite easily influenced by others as his aunt talks him into complaining to Mr Carson about Thomas Barrow, when Alfred sees him kissing a sleeping Jimmy; and Robert Crawley pressures him into dropping the matter with the police when they come to Downton with questions about the matter.
When it comes to cooking, he can be quite focused, asking Mrs Patmore questions.
Before his departure from Downton, he expresses his gratitude to the family and Mr Carson, and desires to part on good terms with both Ivy and Daisy, expressing his guilt and regret to the latter for having not seen her true feelings for him.
Relationships
Edit
Appearances
Edit
References
Edit